Dane S. McGregor
Father, Husband, Techie, Artist
I am, in no particular order, a doting father of two delightful little girls (OK, really, beautiful young women), a loving husband to Beth Rubin, a Science Fiction fan, a computer nerd, a chocoholic, a former bookstore owner, a bicycling enthusiast, and a fan of the TV shows Doctor Who and The Big Bang Theory.
I currently live in Wilmette, Illinois, a suburb of Chicago. I work for the local school district as a database jockey and webmaster and general digital jack-of-all-trades.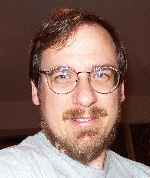 Born in Madison Wisconsin, I had a wide variety of homes as a child, ultimately spending most of my formative year in Midland, Michigan.
Anyone from Midland who stumbles across this page, drop me a line.